Celebrating Over Fifty-Five Years of Service in the Chicagoland Area
The Latin American Police Association was first organized in the fall of 1961 with a total membership of 21 members.
At that time there was only a handful of Hispanics on the Chicago Police Department. This was due in part to subtle discrimination, such as the imposition of a minimum height requirement, as well as overt discrimination, which has historically excluded the 'first wave' of most immigrant groups. Another impediment was the fact that most police agencies in Hispanic countries were notoriously corrupt and this distrust of the police lingered after the immigrant's arrival.
LAPA has the distinction of being the first ethnic law enforcement group within the city of Chicago and Cook County, Illinois. The main goals of the organization were to promote police/community relations, the recruitment of Hispanic police candidates, and the promotion of incumbent Hispanic police officers. After fifty years of labor, these continue to be LAPA's main goals. As LAPA's membership grew, these efforts expanded to include the Cook County Sheriff's Office, suburban police departments, and Federal law enforcement agencies.
Along with legal and political action, LAPA has attempted to increase our representation by conducting tutorial classes for both Chicago Police Department and Cook County Sheriff candidates. This was achieved in part due to the excellent cooperation of the Chicago City-wide Colleges. We also hold tutorial classes for Police and Sheriff's personnel seeking promotion. All of our classes are open to any interested party, regardless of her/his ethnic background.
As LAPA approaches its sixtieth anniversary, we aspire to serve as role models to our youth, promote strong police/community relations, and improve our professionalism. We hope to achieve these goals in part through the continued support of various police agencies and fellow fraternal organizations.
LAPA is a fraternal organization created to assist Hispanics in the field of law enforcement. The membership of LAPA is comprised of any person of Hispanic descent, in whole or in part, who is a sworn member in good standing of any law enforcement agency in the Greater Chicago Metropolitan Area.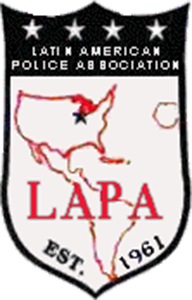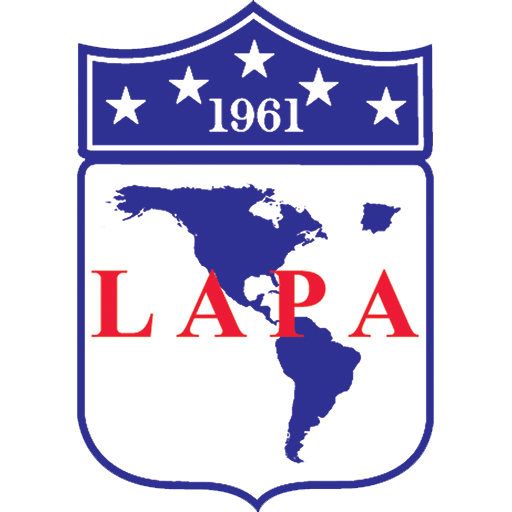 Purpose
The purpose of the Latin American Police Association is to develop, promote and encourage a greater degree of understanding and cooperation between the Hispanic community, and local, state and federal law enforcement agencies such as the Chicago Police Department, Cook County Sheriff's Office, Illinois State Police and FBI among others. LAPA accomplishes this by means consistent with the laws of the United States of America, the State of Illinois, City of Chicago and in compliance of established policies of the various agencies represented by our membership. LAPA promotes and encourages a higher degree of professionalism, education and advancement among Hispanic law enforcement officers. Through education and networking, LAPA has evolved into an issue-oriented organization that seeks to enhance the quality of life for both Hispanic law enforcement officers and for the Hispanic communities we serve.
Objective
The objective of the Latin American Police Association is to assist in the social, civic, cultural and professional development of the Hispanic community, by means consistent with the established policies of the various law enforcement agencies represented by our membership.
Key Historical Moments
Key Years & Decades in LAPA History
1961
LAPA was founded by several officers from the Chicago Police Department.
1982
LAPA founded the Hispanic Institute of Law Enforcement as the Educational arm of LAPA.
1987
LAPA had the distinction of being one of the founding charter members of the Hispanic National Law Enforcement Association (HNLEA), which is headquartered in Cheltenham, Maryland.
1970's
LAPA successfully sought litigation against the Cook County Sheriff's Office, with the assistance of the Mexican American Legal Defense and Education Fund (MALDEF), and as a result the Cook County Sheriffs Office was required to hire a larger percentage of qualified Hispanic candidates for available Deputy Sheriff positions.
1994
LAPA once again had the distinction of being a founding charter member of the Coalition of Hispanic American Police Associations (CHAPA), a national organization. CHAPA is a not-for-profit corporation dedicated to providing a national perspective and definitive voice on issues facing Hispanics in Law Enforcement, and enhancing the role of Hispanic law enforcement officers in dealing with problems in Hispanic communities.
2011
LAPA celebrates their 50th anniversary. The highlight of the year was their 50th Annual Awards Banquet.  Hosting 300 attendees, the event was held in the Medinah Shrine Center's Grand Ballroom located in Medinah, Illinois. The Event featured a four course dinner with a live six member band in addition to a mariachi trio.
1996
When the City of Chicago finally promoted officers to the rank of Sergeant using the 'Meritorious' concept, there were only a handful oh Hispanics were elevated. LAPA met with Mayor Eugene Sawyer and an additional ten Hispanics were promoted.